Serasox Model 1 No-Show Barefoot Socks
SIZE
US MEN'S SHOE SIZE
US WOMEN'S SHOE SIZE
Flat Rate
Shippping
Satisfaction
Guaranteed
Easy Returns
Whether you're lounging on the sofa or are looking for no-show socks to wear with your low-top shoes or sandals, these environmentally friendly barefoot socks will keep your feet sheltered yet comfortable. Socks with separated toes allow your feet to spread out naturally, decreasing cramping and odor caused by crowded toes. Additionally, this hypoallergenic material is gentle on every skin type and is absorbent, keeping your feet warm and dry so that sweat, moisture, and blisters don't leave you suffering.
Our bamboo no-show socks go the extra mile with their sleek design. This low-cut design remains unseen in nearly any shoe. Pair them with various shoe styles to get that chic, sockless look without the painful rubbing and blisters. Thanks to our unique cascading non-slip heel grip design, you also won't have to worry about our bamboo no-show socks sliding off your feet like you do with many other no-show socks.
The biggest innovation in socks ever

Less odor
The individuated toe design and the superior absorbency of our bamboo socks keep your feet dry and reduce foot odor. Plus, our barefoot socks are breathable, ensuring that your feet stay cool and the smell stays away!

Good for the planet
We use real bamboo in the production of our socks, which requires far less water and land area compared to cotton or other materials to grow. Plus, we plant a tree with each pair of Serasox that is sold. Feel good when you're purchasing our barefoot socks, because you're helping save the planet, one tree at a time.

More comfort
Our no-show socks are superior in nearly every way to other no-show socks. Serasox Model 1 No Show Socks are thinner than our other models to most closely mimic that barefoot feeling when wearing summer shoes, yet they are vastly superior at keeping your entire foot dry and not slipping off when compared to any other no-show socks.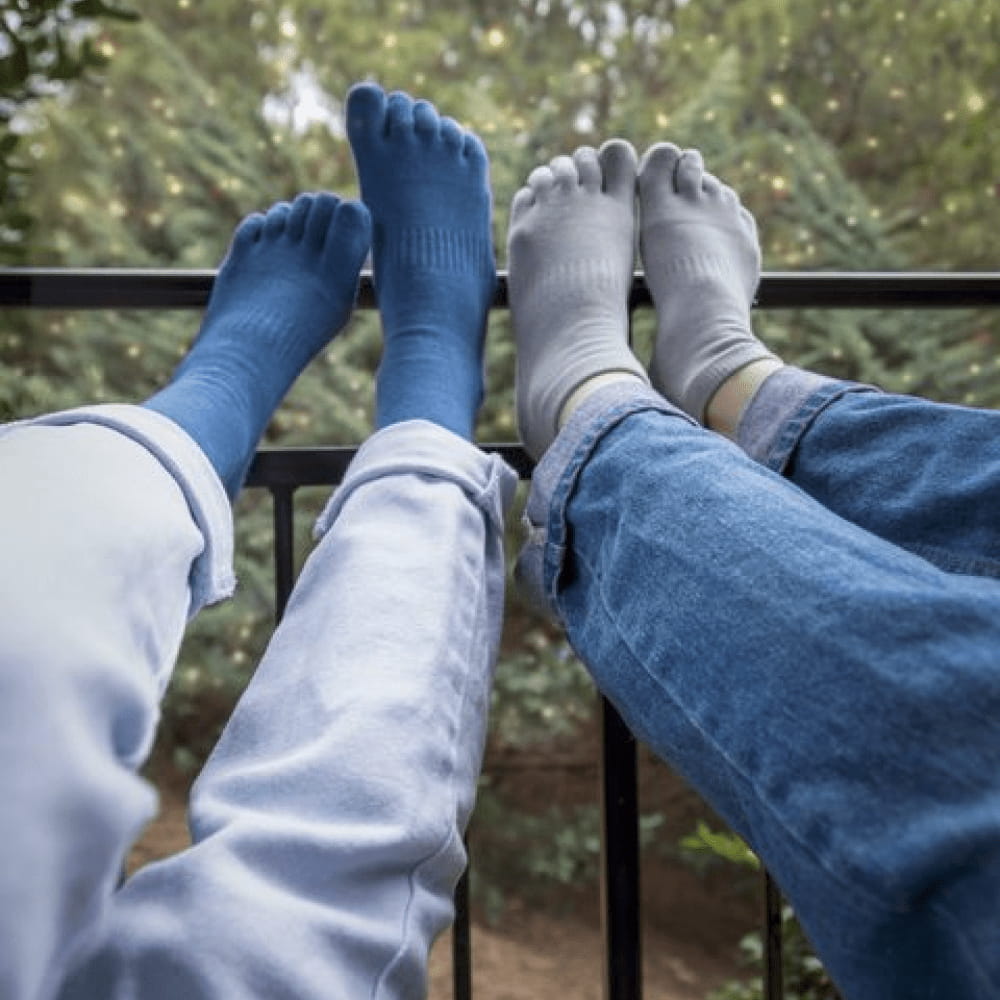 Sox to Save the World
These bamboo no-show socks are made from real, eco-friendly bamboo fabric, which is a more sustainable alternative to other popular clothing materials. Bamboo doesn't need much water to grow and produces more oxygen than trees, while also growing faster than other plants and needing much less land to do so.
Serasox also plants a tree with every purchase you make. And since these plush, absorbent socks will keep you coming back for more, you'll play your part in restoring the trees of our beautiful planet.
Learn more
Barefoot Benefits Meet Plush Comfort 
Serasox offer the benefits of being barefoot, while the arch support and added padding maintain maximum comfort. The five-toe feature helps your toes stay aligned when you're running or walking, which improves balance and stability. Unlike conventional socks, bamboo no-show socks allow your toes to spread instead of being compressed, leading to better airflow and breathability. The individual pockets of barefoot socks reduce pressure on the feet which prevents conditions like blisters and bunions.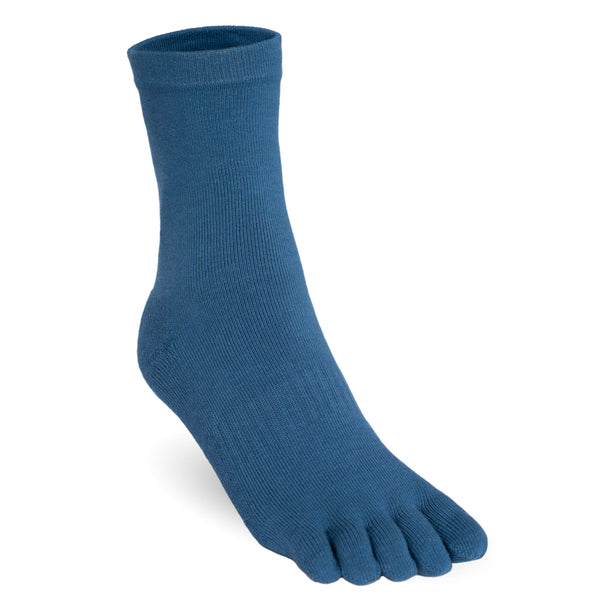 Less Odor

Eliminate Friction And Blisters

Superior Bamboo Material

Proper Alignment And Functionality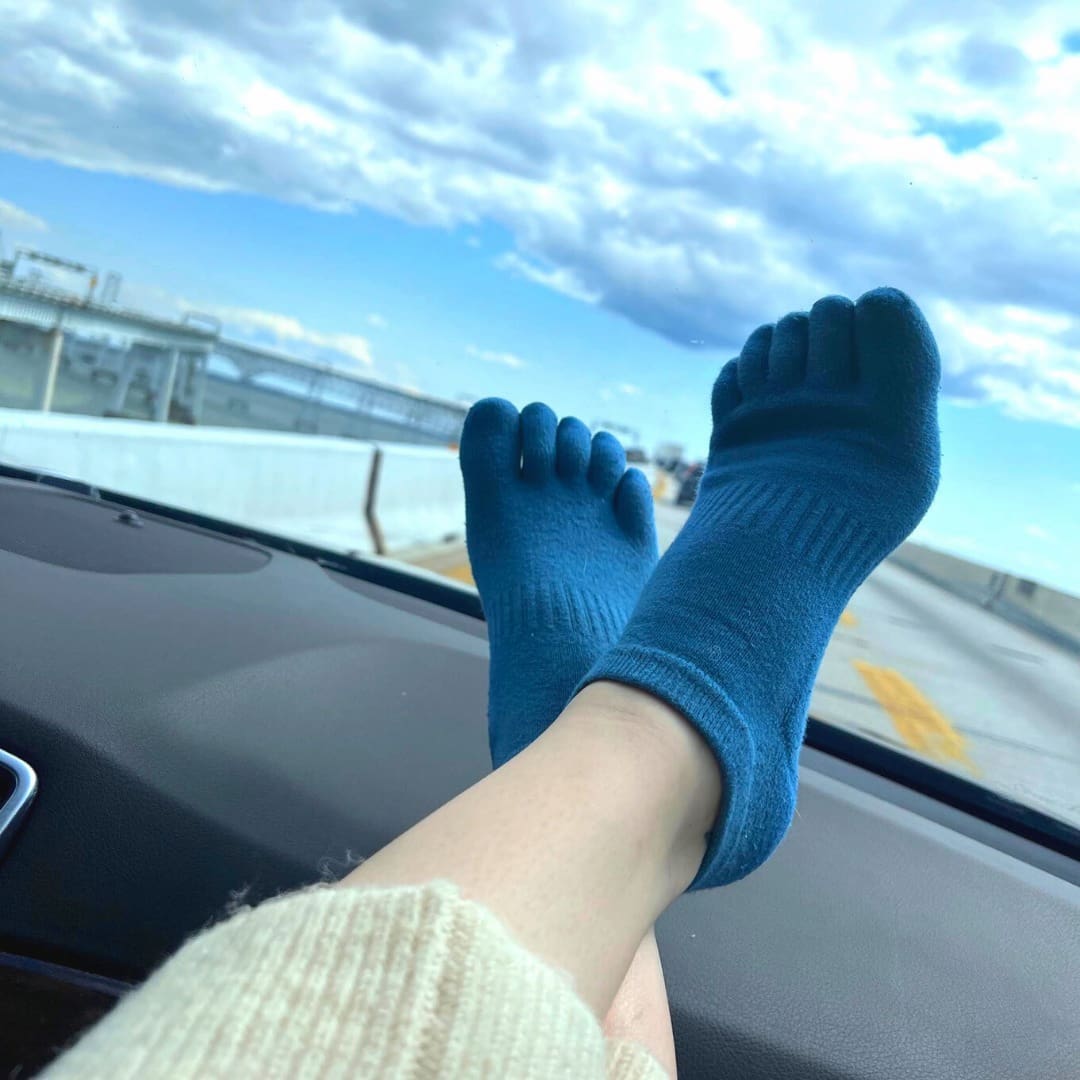 Fit for Anyone
If you have sensitive skin, there's no need to fret. Serasox no-show sweat-absorbing socks work well for all skin types. Thanks to the softness of bamboo fabric, it's unlikely that our socks will cause any irritation. Serasox No Show Model 1 socks will keep your feet dry and cool on those hot summer days while maintaining that sleek no-show design.
If you have questions, please message our team. Otherwise, if you're ready to give your feet the gift of maximum comfort, buy your Serasox today!
Contact Us
Frequently asked questions
It's easier to grip things with gloves on your hands than mittens, right? THEN WHY WOULD YOU WEAR MITTENS ON YOUR FEET?? Your toes need to grip the earth, just like your hands grip objects, to maximize functionality and improve how your foot works. This, in turn, better supports your entire body's alignment. Bamboo no-show socks also have a woven-in arch support + extra padding in all of our models. This means your feet will feel free but snugly comfortable. Lastly, we use only bamboo material so each toe is snuggly wrapped in the best moisture-wicking (and most environment-friendly!) material money can buy. So blisters, toe-on-toe frictions, and nasty bacterial smells coming from the crevices between your toes are gone when you wear barefoot socks.
Ok, that's a great question, I'll give you that. Thanks to our patent pending design, no one else can make bamboo five-finger socks with arch support and added padding. Simply put, no other socks on the planet can come close to our level of comfort. In addition to giving you the best socks money can buy, we plant a tree for each purchase! Not only are you saving your feet, you are helping to save our planet.
Our wonderful barefoot socks come in two sizes: S/M and L/XL. For women, we recommend S/M for shoe sizes up to US 11.5 and L/XL for shoe sizes above US 11.5.
For men, we recommend S/M for shoe sizes up to US 10.5 and L/XL for shoe sizes above US 10.5.
Machine wash your bamboo no-show socks using a gentle or delicate cycle with cold water. Do not bleach, iron, or dry clean your Serasox. Because these socks are made from real bamboo, hang drying is ideal for the longevity of the socks but if you cannot do that then machine dry on the delicate setting. Also, keeping your toenails nice and trimmed is not only good for your health, but it can prevent wear and tear, allowing your Serasox barefoot socks to slip on and off seamlessly.
We charge a flat rate of $5 no matter your order size for shipping inside the United States! And if for some reason you don't LOVE your Serasox, we offer free returns and exchanges within 30 days whether or not they have been worn! Just email info@serasox.com with your order number and we'll take care of the rest!
Yes, ESPECIALLY with shoes! Serasox pairs wonderfully with athletic shoes, dress shoes, boat shoes, flats, hiking boots, or any shoe you can think of. The superior absorption of bamboo combined with the five-finger design of barefoot socks means your toes can each actively engage independently. Plus, you can say goodbye to odor in your shoes when you're wearing bamboo no-show socks.
Currently, we only ship in the U.S., but be sure to check back if you are outside of the U.S. as we will plan on expanding our shipping soon!
Not Sure
The toe fit was perfect. The NO How: The material looks like it has signs of wear on my first wearing of them. I am curious to see how they are going to do. The above ankle: cuts off circulation because it is so tight. The left sock has a snag on the top. I can't wear these so that was a waste of $11.
After 2-3 washings, I will let you know if they are holding up.
I had these on my Giftful list for Christmas but I took them off as that is too much money to pay for socks that I may end up not liking.
Fantastic
Cozy well done
Perfect pair os socks
Buying more now
Way too thin
This is more like a dress sock.
Hi Emily!
Thank you for your purchase and we are sorry to hear you did not absolutely love your Serasox! Our Model 1 No Show Serasox are designed to be our thinnest model of Serasox so as to be concealed as much as possible, while still being made from super absorbent real bamboo material!
The Serasox Team
Very comfortable
Takes the stress off my toes which is helping my sprained toe heal.
Comfortable fit
My daughter loves the socks and thinks they're comfortable. I would love to see them priced a bit less expensive.